This is a compiled list of our ONGOING PROJECTS
Please click the links to learn about each project.

This is a video blog project, which is actually going to end in about a week! But if you liked this, maybe we can come up with more vlog projects that are actually interesting haha
Till then, you can find the videos on our youtube, and all the info there.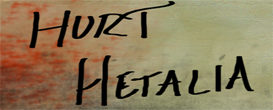 This is a photoshoot currently being planned for anyone who is interested.
What it is, is we have Hetalia nation's, but war worn. So bloody, bandaged, burned, you name it. Its not a pretty shoot, but its an interesting one. If you are intrigued by this project please comment below. But please know that it requires willingness to get dirty, blood stained, and while this is not overtly graphic in nature, it is still not for the squeemish.
When will it Happen? As it stands, this shoot will happen Early Spring of 2011, however, depending on the level of interest it may happen sooner.
It will take place in the PDX area, definite location soon to be announced.
As some of you may know, Neil Gaiman, co-author of the notoriously amazing apocalyptic novel titled, Good Omens, wrote a screenplay for a Movie that was unfortunately never meant to be. However, we love this screenplay so much, were going to try and make it happen. To the best of our abilities. We need quite a few people, and will be scouting locations this winter. To anyone who is interested, drop us a line below and we'll update you as more information becomes available (aka, as soon as we find out what in the world we're doing).
We currently have the following characters
Aziraphale
Crowley
Polly
Clearly, we need more. So heres that, much more important, list:
Madame Tracey
Adam
Satan
Anathema
Pepper
Brian
Minor Characters:
Bed and Breakfast owners
Mr.Green
Mr.White
Cholmondely
Tina the Barman
War
Famine
Pollution
Death
We also need any christmas village houses you can hand over willingly or if you know how to make miniature towns, we could use your skillz.
This is very much an ongoing thing. but we plan to film it in 2011/2012 (Hey maybe we'll be done before the REAL Apocalypse! :D ..I kid )
Keep an eye out on this post, As more projects come up, info will be posted here, and most of the time, we're in desperate need of people!